| | | |
| --- | --- | --- |
| | About Our Family Research | |

My name is Debbie Heffernan Benko. I am researching my Irish roots on my father's side. His mother's parents came from Caherciveen, County Kerry, Ireland in 1901 and 1903, with cousins and other close relations a few years before and after. Relevant surnames include: Bowler, Sullivan, Connors, O'Connell, Lynch, Shea (O'Shea), McCarthy, Willett, and McGill. From County Kerry, we know that John Joseph Bowler (my great grandfather) came through Ellis Island in April 1900. His brother Maurice came in 1914 and a sister Bridget a bit earlier than 1914. Their parents were Michael Bowler (b. 1846) and Catherine Shea (O'Shea). John Bowler married Catherine Sullivan who came over from Valentia Island, County Kerry between 1900-1902. Catherine's sister Julia Sullivan came through Ellis Island a little later. They settled first in Norwich, CT, and then later Unionville, CT. John came to stay with his first cousin Mike Lynch, who was John Bowler's mothers nephew.

Another part of our family came over in the mid 1800's from Ireland: (Butler, Maroney, Heffernan) and settled first in Dutchess County, NY. In 1865, Cornelius Heffernan and his brother Roger came from Ireland and settled in New York. Cornelius married Margaret Maroney from Dutchess County, NY, and the first 4 of their 11 children were born there before they both moved to Yonkers, NY. Margaret Maroney had two sisters, Bridget who married James Quinlan and Anne Butler Maroney, who never married. Roger may have been in Chicago for a while, and most if not all of his kids eventually lived in Riverdale, NY, and NYC. Other great grandparents (John Pearson who married Ellen O'Brien) came over in the late 1800's and settled in Yonkers, NY, where they raised their family and are buried. I am doing most of my research on these Irish relatives and produce a newsletter that I mail to all known relations of various branches.

My mother's side consists of pre-revolutionary war and Mayflower passengers coming from England and Scotland (with a 100-year layover in Antrim County, Ireland). My mother's roots include: Bradford, Kalloch, Tolman, Gregory, Sylvester, and many old New England families - many of whom started out in Massachusetts and migrated north to Maine (when it was still part of Massachusetts). The Kalloch clan puts on reunions and held its 138th family reunion in Maine in August 2005.
I am doing this project because I want to preserve our family history. Also by preserving the names, stories, and images of my ancestors and relations, I feel somehow that they will not be forgotten and that they live on for our children and grandchildren to know.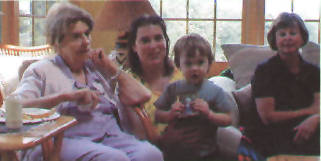 Kitty Bowler, Debbie and David Benko, Julie Bazenas
August 2000