John Joseph Bowler
John evidently was the oldest child of Michael Bowler and Catherine Shea. Our records indicated that John Joseph Bowler was born in Rea Castle, County Kerry, Ireland, on September 28, 1875. However, genealogical research is not without its challenges. Consider this recent missive from an Irish records research company to Deb Joyce Johansen:We have heard from Hilda McGauley regarding order 1101 Birth Cert. Ir —full details known - Photocopy for John Joseph Bouler as follows: The photocopy of the birth record will be posted to you. It states that: John Bowler was born on 24 October 1873 at Recastle which is in the Registration District of Caher in the Union of Caherciveen, Co. Kerry. His father was Michael Bouler, a Farmer, Recastle. His mother was Catherine Bouler formerly Shea. The birth was registered on 11 November 1873 by his father.
Before immigrating to the U.S., John worked for the father of Sean Connell (who Jack Bowler met when he went to Ireland during WWII). Jack also wrote that his cousin Bridie showed him the road across it where John used to go to school when he was living with his Aunt Judy. Apparently, Jack noted, John spent most of his time away from home. John also had worked as a teacher's monitor. Alice Ogden Bowler reported that John's father Michael gave all of his children the choice of going to college or immigrating to America.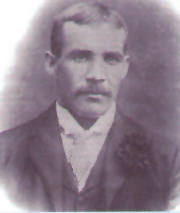 John Bowler's Wedding Picture in 1903
John, who was very good at mathematics and could have gone to school to become a teacher in Ireland, chose America.
John immigrated to the U.S. in 1900, according to the 1910 Census, and was naturalized in 1910. According to the ship manifests documented on the Ellis Island Foundation website, John Bowler immigrated to Ellis Island on April 24, 1900, on the ship Ivernia, sailing form Queestown County Cork, Ireland. His age was listed as 25 and his hometown was listed as Caherciveen. (In fact he would have been 24 1/2 years old, not 25). He is on line 27 of that ship's manifest for that day. The manifest also listed that he was single, that he could read and write, that his profession was laborer, his nationality was Irish, the seaport of entry was
New York, he had $10 with him, he had paid his own passage, "No" he had never been to the US, he was going to Norwich, Conn., to stay with friends.
Deb Johansen emailed Debbie Benko, saying "If you look at the original manifest for John, I found something puzzling. It looks like he came over with a Michael Sullivan. Next to the line where it lists the nationality there is a character I can't read. But if you look at where it lists their destination, the two records look like they merge? It looks like it says Norwich from ?? and friends, (on John's line) and sister Mrs. Mahon and Brother (on Michael's line) What do you think?" On the ship's manifest are three other people from Caherciveen: Maggie Devine, Michael Sullivan, and Jas Lawler.
John was in the US for about 2 years when Catherine Sullivan immigrated (1902). John married Catherine on April 15, 1903, in St Patrick's Church in Norwich, CT. The couple then moved to Unionville, CT
The 1910 Census noted that they had been married for 6 years. John's age was listed at 34 and Catherine's as 29. They already had 5 children by then. By the 1920 Census, Catherine and John had 8 children, and Catherine's age was listed as 34 and
John's as 42. (The women appeared to age more slowly than the calendar would suggest). Their address on the 1910 Census was 317 Mill Street and Bowler Avenue in the 1920 Census, both in Unionville, CT.In the 1910 Census, John listed his occupation as fireman at a paper mill. According to Deborah Johansen, John worked for Myrtle Mills in Unionville. He tended to the boilers, shoveling coal, and making the rounds (a watchman) for the company, which made textiles (felt for piano keys, for example).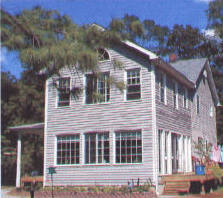 Bowler Ave House in 2000 (the porch was added latter)
Alice Bowler told a story of how the workers would go down to the boiler room to smoke and one day a manager was using crude language and John kicked him out of the boiler room. The other managers said that the manager should fire John, but the manager said no, that John had been right to kick him out of the boiler room for cursing.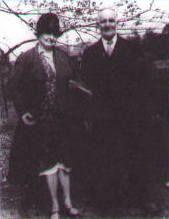 John and Catherine
According to his descendents, John was very loving and affectionate with the children because his father wasn't. His kids looked forward to his coming home and would run and greet him.
According to Ed Heffernan, he was also herdsman, herding milk cows. The 1910 Census stated that Catherine had no trade or profession, but Julia was noted as being a press hand at a doll shop (if I read the Census correctly).
John died on June 06, 1943, at his home in Unionville, CT. Dick Heffernan, his grandson, reported that John died after falling down a steep, narrow staircase in his house in Unionville. John's son Jack was home in Unionville, just before leaving to go to Europe for World War II. John is buried at St. Mary's Cemetery, in nearby Avon, CT.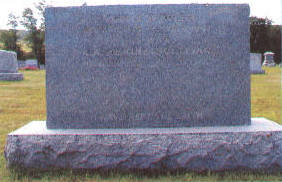 John and Catherine's headstone is inscribed," I have kept the faith." John J. Bowler was a member of the Knights of Columbus. According to Ed Heffernan, he was definitely a Hibernian.